10 Best Quality Exotic Cars in Fort Lauderdale, FL
Posted Tuesday, Jan 10, 2023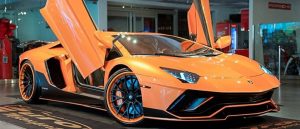 Exotic cars are purchased not just for their looks but also for their performance. Our selection of exotic cars comes out on top in terms of ranking, performance, mileage, speed, comfort, and many other factors that make exotic cars a popular choice.
If you want to purchase an exotic car, you must consider comfort and everything it offers for that price tag. Buying an exotic car is an investment so ensure that the requirements you are looking for are met. This includes any new features you have been eyeing.
Moreover, exotic cars can also put a dent in your wallet if the engine doesn't perform well. In fact, low-performing cars require regular fuel, gas, and maintenance costs. Ensure your exotic car is practical, as you may need to drive it for a while.
Best Exotic Cars to Buy in Lauderdale, FL
1. 2022 Ferrari Roma
The 2022 Ferrari Roma is a beautiful car with a sleek and sophisticated look. Starting at an average of $230,254, this car is a must-have in your garage. That is if you are looking for the best design, speed, and comfort packed into one body.
The best features of the Ferrari Roma 2022 model are the exotic design, comfortable 4-seater interior, and an average speed delivery of 22 MPG on the highway. If you need a car that doesn't just provide you with a thrill at every turn and comfort for the whole family, the Ferrari Roma is your best choice.
2. 2022 Maserati MC20
This Maserati model will give you a combined mileage of 18 MPG. If that is not enough, it is priced at an average of $218,398. The Maserati is the best car with an exotic body that also gives you a sleek and comfortable interior with many of the amenities that are loved by most drivers.
With the Maserati MC20, you get adaptive cruise control, in-car WiFi, parking sensors, leather seats, keyless ignition, and entry for those who like to travel in style. You can also benefit from the race-car feel as the interior includes a 2-seater design.
3. 2022 Bentley Continental
Bentley cars are known for their professional look. In fact, it is probably the same as wearing a suit to work. The car screams business with its big body and multiple features that make driving a pleasant experience.
With the 2022 Bentley Continental, you can take advantage of multiple parking cameras, cruise control, WiFi systems, parking sensors, seat heating, and more. This four-seater can also allow you a top speed of 26 MPG on the highway.
4. 2023 Porsche 911
The Porsche 911 is one of the most affordable exotic-quality cars on our list. It offers an average mileage of 16-21 MPG at an average market price of $110,692. This car will definitely give you the best value for your money.
The Porsche 911 offers all the features of expensive exotic cars, such as comfortable heated seats, easy navigation and cruise control, and keyless ignition. This ensures you and your passengers enjoy the drive to the fullest.
5. 2023 Aston Martin DBS
One of the best cars of 2023, the Aston Martin DBS, has provided the market with many upgrades that have surpassed the previous models. This car doesn't just look beautiful on the inside but is also functional and practical on the inside.
The Aston Martin DBS takes inspiration from race cars, which means it sounds and runs much like a race car. You also get a much safer drive with automatic parking, cruise control, navigation, and a blind spot system.
If you are looking for a car that packs the exotic curvy and muscular structure into a fast car, this should be at the top of your list. Some of the car's best features include its turbo engine and rear-wheel drive, which pushes the limits.
6. 2023 Audi R8
Unlike some of the exotic cars in the market, the Audi R8 will allow you to drive at high speeds and be adaptive to your driving style. It looks good and has an audible purr that only the pickiest of drivers can recognize.
The Audi R8 can get you great performance and optimize your fuel usage. However, it does fall short when it comes to handling. The Audi R8 isn't a great pick if you want a family car. However, it is a top choice for people who like speed and comfort.
7. 2022 Lamborghini Huracan STO
This Lamborghini boasts two comfortable leather seats, rear parking sensors, keyless entry, and other amenities such as Bluetooth connectivity features and cameras that make driving much more secure.
8. 2023 McLaren Artura
This may be near the bottom of our list, but it doesn't mean it isn't a top-performing car. With the 2023 McLaren Artura, you get a 2-seater with four trim levels for around $237,500. This McLaren also offers you comfortable navigation, cruise control, keyless entry and ignition, and much more.
9. 2023 McLaren GT
This car is for those who want their exotic vehicles to look beautiful. It has a powerful design that stands out in a crowd of exotic quality vehicles. The vehicle may cost a tad bit more than others in the market. However, considering the multiple amenities it offers, this McLaren is worth the investment.
10. 2022 Ferrari 296 GTB
Last but not least is the Ferrari 296 GTB. This car boasts a combined mileage of 18 MPG with a 2-seater interior and compact design, which packs a punch. It allows you to experience the best cruise control, navigation, and comfortable interior at a much lower cost.
Final Thoughts
When searching for the best exotic quality cars, know your budget. It is best to buy a car that doesn't overstep your comfort zone. Moreover, consider the comfort, speed, and amenities and match them against your requirements. Also, compare them with the price and consider their worth.
The best quality exotic cars give you the best mileage, comfort, speed, performance, and utility all in one. If you are considering buying an exotic car, try to choose the best car financing route to keep that interest rate to a minimum.